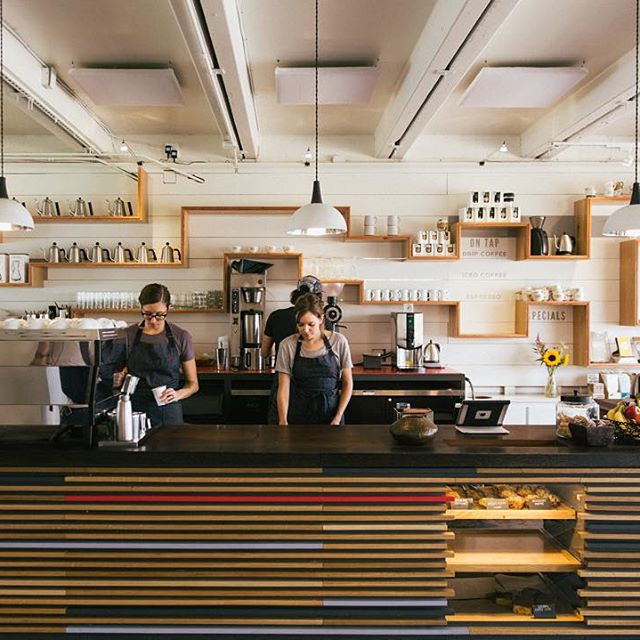 Nashville's Best Coffee Shops
We're slightly obsessed with our daily coffee and that's partially due to the many incredible local coffee shops in Nashville.  When we travel, we scour the internet for the best coffee stops in town, so we thought we'd share the ones in Nashville that top our list.  Whether you're a local or just passing through, you'll want to grab a coffee from one of these favorite spots. 
1.
     

Crema

This unassuming coffee shop is located in a former diesel engine repair shop close the the heart of downtown Nashville.  Their commitment to ethically sourcing coffee from trusted farmers that are paid well and roasting in a way that honors the nuances of the coffee is unwavering.  You'll find some of the finest espresso drinks in the city here along-side an assortment of pastries, muffins, macaroons, avocado toast, granola bowls, and more.  For a quick breakfast or an afternoon coffee, you're sure to enjoy this local favorite.
2.
     

Barista Parlor

Nationally recognized for their commitment to the highest quality coffee, Barista Parlor has three locations in Nashville and while they each have their own personality, they are all equally worth a visit.  Each location pays homage to a restored building with updated garage doors, locally handcrafted furniture, and coffee sourced from around the world.  They also have the best biscuit sandwiches in the city, assorted donuts supplied from Five Daughter's Bakery, and bagels supplied by Proper Bagel.  The lines can be lengthy on a Saturday morning, but you'll get a true taste of the city and the caffeine fix you'll need for a day of sightseeing or shopping.
3. dose. 
Open since 2009, dose. has been a go-to for a simple coffee, espresso drink, pastry, or made-in-house biscuit sandwich at their location just off West End past Centennial Park and they're now serving up the same delicious drinks and food at their new location in East Nashville.  This no-frills coffee shop takes their coffee making seriously and it shows.  
4.
     

Frothy Monkey

A long time staple in the 12th South neighborhood of Nashville, Frothy Monkey now has additional locations in Franklin and Downtown Nashville as well.  You'll feel at home here with their friendly service, breakfast until 5pm, and fun espresso drinks like the Monkey Mocha or the Turtle Latte.  Their menu aims to please with pre-made or make-your-own options for omelets, waffles, pancakes, and more.  They even offer a special menu for Little Monkeys. 
5.
     

Fido

As the oldest coffee shop in Nashville, Fido has quite the reputation in our city. Aside from the occasional Taylor Swift sighting, Fido is typically filled with a relaxed crowd of college students, young professionals, and families.  Nestled in the heart of Hillsboro Village, it's a popular place to start before a Saturday morning of boutique shopping.  With one of the largest breakfast menus in town, there's something for everyone.  With an emphasis on organic and locally sourced ingredients, you cannot go wrong.  Try the Sweet Potato French Toast or the Village Scramble with one of their signature espresso drinks like the Local Latte that contains local honey and a dash of cinnamon.  
6.
     

Bongo Java

Bongo Java, across from Belmont University, is a popular spot for college students and recent graduates.  A casual vibe, low-cost food menu, and fun specialty drinks are par for the course here.  When the weather is nice, check out their spacious patio seating! 
7. Three Brothers Coffee
Brought to us by the owners of Cumberland Transit, just next door to the coffee shop, Three Brothers Coffee is a hidden gem.  They locally source coffee from Bongo Java Roasting Co., pastries from Dozen Bakery, and cookies from Christy's Cookies.  With fast wifi and friendly service, this is a convenient stop for staying a while or grabbing a cup of joe to go.