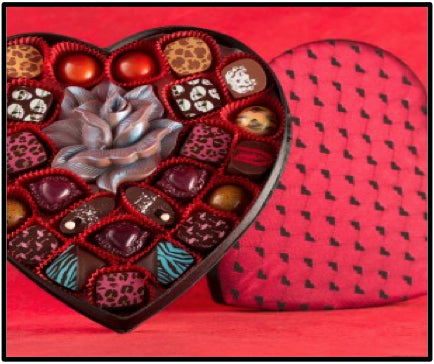 12 Uniquely Nashville Valentine's Day Gift Ideas
Valentine's day is coming up fast!  Don't let us catch you at Walgreens on February 13th hoping you'll find a card and some chocolates before they're completely sold out.  You can do better than that!
With a little help from us, you'll find a gift that's unique, local, and thoughtful.  We put together a list of our top 12 Uniquely Nashville gift ideas for your Valentine this year! 
Don't see something they'll love? Tell us about who you're shopping for and we'll send you a customized list of ideas just for your special someone. 
1.
Handmade paper flowers and a heartfelt love letter
Get her flowers that will actually last!  These beautiful flowers are made by Amaranthus Paper & Flora, a mother/daughter team based out of Nashville and Atlanta. Need a little help writing an old fashion love letter to pair with your Valentine's flowers?  Hallmark breaks it down for you here. 
2.
  Project 615 Nashville T-shirt "Hot Chicken Capital of the World" and a gift card to Hattie B's
If he loves hot chicken, he'll love this Valentine's day gift idea!  Pick up a gift card to Hattie B's and pair it with a T-shirt from Project 615.  As a bonus, you'll feel great knowing that 100% of the profits from Project 615 t-shirts go to world changing organizations, including those that specifically help the homeless community of Nashville.
3.
 Beardition gift set
Is he a clean shaven kind of guy or a bearded fella?  Either way, keep him looking his best with one of Nashville's own Beardition's ultimate Valentine's Day product gift sets. 
4.
 Brittany Fuson stationary and a Bongo Java gift card
The talented Nashville based Brittany Fuson designs fashionable stationary that is perfect for the coffee addicted!  Pair a notepad with a Bongo Java gift card she can use it to feed her addiction at Fido, Bongo Belmont, Hot & Cold, or Bongo East Café!
5

. A plush animal for play time and chocolate covered animal crackers for snack

 

time

Pick out a handmade bear, pig, alligator, or fox from Nashville owned Scout Baby for your little one this Valentine's day.  Pair it with a bag of Colt's chocolate covered animal crackers for the perfect kid's valentine gift.   

 
6.
 Doggie bow tie and a Valentine's day treat
Sometimes man's best friend is the best Valentine in your life!  Doggies like gifts too!  Fin and Lil  has a bow tie that will make him look dashing and See Spot Eat will keep him happy with a special treat just for him!
7.
 Nashville scented candle
What does Nashville smell like?  Leather and whiskey of course!  Guys will particularly love this manly scented candle from Southern Firefly.  Each candle is hand poured and made to remind you of being on Broadway in Nashville, TN.
8.
 Tickets to the ballet
Guys, trust us – you'll score major brownie points if you take her to a ballet! Nashville Ballet's Attitude will be performed February 13-15 and combines dance, music, and art to inspire her creative side this Valentine's weekend.
9.
 Box of Chocolates
Skip the line at Wal-Mart this year and pick up a unique box of handmade chocolates from Nashville's Chocolate F/X.  Choose from a small or large assortment of Valentine's day chocolates with a fun Rock n Roll attitude!
10. 
Thistle Farms candle
Love heals! Thistle Farms lavender candles not only provide the gift of relaxation, but sales of Thistle Farms products help the Magdalene non-profit, a residential program in Nashville for women who have survived lives of prostitution, trafficking, addiction and life on the streets. 
11.
 A chocolate factory tour and a cinnamon chili chocolate heart
Willy Wonka's Chocolate Factory might not be real, but Olive & Sinclair is and it's right here in Nashville.  Having won numerous awards and accolades for their stone ground chocolate, you can't go wrong by picking up some chocolates for your Valentine and booking a tour for a sweet date idea. 
12.
 Nashville gift basket
Send them a taste of Nashville! A gift crate from us at High Note Gifts is the perfect way to share all the things you love from Nashville with the ones you love! Tell your clients, friends, or students away from home how much you love and appreciate them this Valentine's Day with a gift crate that's sure to please! 
What are you planning on giving to your Valentine this year?  Is there anything you're hoping to get?  Valentine's day is not just for couples.  Make someone's day with a thoughtful gift that let's them know how much you love them and appreciate them being a part of your life. 
- HNG -